Aki Maeda (前田亜季 Maeda Aki, born 11 July 1985 in Tokyo, Japan) is a Japanese actress and singer. She has an older sister named Ai Maeda.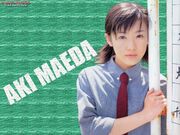 She is perhaps best known in the west for her role as Noriko Nakagawa in the controversial 2000 film Battle Royale.
Mizu ni Sumu Hana (2006)
Saishuu Heiki Kanojo (Saikano) (2006)
Harami (2005)
Linda Linda Linda (2005)
Out of This World (2004)
Battle Royale II: Requiem (2003)
Genji: A Thousand-Year Love (2002)
Godzilla, Mothra and King Ghidorah: Giant Monsters All-Out Attack (2001)
High School Girl's Friend (2001)                               
Battle Royale (2000)
Gamera 3: Awakening of Irys (1999)
Cosmic Baton Girl Comet-san as Comet (2001)
The Cat Returns (猫の恩返し・Neko no ongaeshi) as Yuki (2002)
Albums:

2005 - Linda Linda Linda original soundtrack (as drummer of Paran Maum)
2005 - we are PARAN MAUM -- Paran Maum (as drummer)
2000 - Boys be... original soundtrack
1999 - Winter Tales

Singles:

2000 - Daijōbu
2000 - Genki no SHOWER
1999 - Gomen ne
Community content is available under
CC-BY-SA
unless otherwise noted.