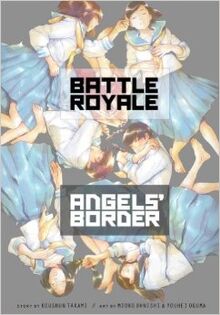 Battle Royale: Angel's Border is a side-story to Battle Royale. Despite being a manga, it actually takes place in the novel universe, as Sakamochi is the Program Administrator, not Kamon. It covers events happening a few months earlier and during the main story, focusing on a specific subset of the same characters: the Lighthouse group and Shinji Mimura. It is best read after completing at least issue 9 of the Manga or Chapter 64 of the novel.
The book has just one issue and two stories by original author Koushun Takami and illustrated by Mioko Ohnishi and Youhei Oguma.
The first story is narrated by the point of view of Haruka Tanizawa but also features Yukie Utsumi and, to a lesser extent, the other four girls who joined their efforts at the Lighthouse. Shuya Nanahara, Mitsuko Souma and Kazuo Kiriyama make cameo appearances.
The second story happens simultaneously and mainly by the perspective of Chisato Matsui (also present in the first story), who recalls her past story with Shinji Mimura while also attempting to deal with the emotionally crushing situation her group finds itself in.
Japanese: Young Champion Magazine and a compilation book in 2012
English: Viz Media, 2014. ISBN-10 1421571684; ISBN-13 978-1421571683
French: Soleil. ISBN-10 2302028023; ISBN-13 978-2302028029
Brazilian Portuguese. New Pop, 2014. ISBN-13 978-85-8362-021-1
Community content is available under
CC-BY-SA
unless otherwise noted.