Hiroki Sugimura
Position
10th
Kills

0

Killed by
Kayoko Kotohiki
Cause of Death

Shot

Assigned Weapon

Collar Tracking Device

Actor

Sousuke Takaoka
Film
Backstory
He is friends with Takako Chigusa and has a crush on Kayoko Kotohiki. He is also good with many of the boys.
In the Program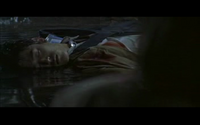 Hiroki decides not to kill any of his class-mates, but to use his weapon, a collar tracking device, to find his crush, Kayoko Kotohiki. He is first seen encountering 3 of the boys. He didn't mean to find them as he is looking for Takako Chigusa and his love. Eventually he finds Takako wounded badly and she warns him of Mitsuko Souma. Then she dies lying on his shoulder. He travels to find his love, but comes across Kazuo Kiriyama and Shuya Nanahara in a gun fight. Hiroki saves Shuya and jumps off a cliff with Shuya into the water. They go to the lighthouse to find Yukie Utsumi and a bunch of other girls. Hiroki then rides to a warehouse on a bike and searches for Kayoko. He finds her water bottle and knows she's there. As he runs to find her she shoots him 4 times. He tells her that someone will hear the gunshots. He warns her to run for her life, and with his dying breath tells her he has a crush on her. He dies from the shots.
Community content is available under
CC-BY-SA
unless otherwise noted.