"
Isn't there anyone who can help us?
"

–Kazuhiko to Sakura Ogawa, his girlfriend.
Character Information

Kazuhiko Yamamoth

Performance
Position:
33rd
Kills:
0
Killed by:
Sakura Ogawa
Cause of Death:
pulled the cliff
Death Location and Time:
A-2 (Pre-dawn, Day 1)
Assigned Weapon:
Cloth Headband
Actress:
Yasuomi Sano
Backstory
Edit
Not much about Kazuhiko's background was known other than he was dating Sakura Ogawa; for how long is unknown. Kazuhiko seemed to be very submissive and meek compared to his girlfriend who seemed to be more in control of their relationship. He played Basketball.
Friends and Enemies
Edit
Kazuhiko's only known relationship was with Sakura Ogawa whom he was dating for an unknown time. Of the two, Kazuhiko was the more submissive. And its unknown that he has other friends and enemies, except for potentially his basketbaall teammates.
In the Program
Edit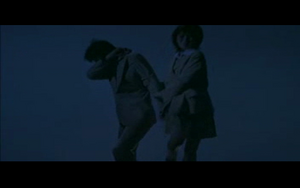 When Sakura's name is called to get her day pack, She lets go of Kazuhiko's hand and goes to get it. He later manages to meet up with Sakura and it is Sakura who convinces Kazuhiko to die together as he seems uneager to do so. Sakura holds onto Kazuhiko's arm and they jump off the cliff.
Notes and Trivia
Edit
Kazuhiko and Sakura Ogawa were the first ones to commit suicide.
Community content is available under
CC-BY-SA
unless otherwise noted.