"I know one thing; I'll never play this game."
Character Information

Sakura Ogawa

Performance
Position:
32nd
Kills:

1 (Kazuhiko Yamamoto)

Killed by:
Suicide
Cause of Death:
Jumped off a cliff
Death Location and Time:
A-2 (Pre-dawn, Day 1)
Assigned Weapon:
n/a
Actress:
Tomomi Shimaki
Backstory
Edit
Not much about Sakura's background was known other than she was dating Kazuhiko Yamamoto. Sakura had a headstrong personality as seen when she refused the daypack for the game. She might have also been seen as controlling, at least when it came to her boyfriend. She hated the idea of murdering her classmates.
Friends and Enemies
Edit
Sakura only known relationship was with Kazuhiko Yamamoto whom she was dating for an unknown time. Of the two, Sakura was the more dominant.
In the Program
Edit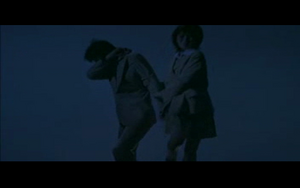 When Sakura's name is called, she let go of Kazuhiko's hand and ran to get her day pack. However, when it was handed to her, she glared at the soldiers and hurled it at Kitano with a disgusted look on her face. She then ran out of the building and met up with Kazuhiko near the northern tip of the island, on a cliff. Sakura convinced him to jump off and commit suicide together.
In the latin spanish translation of BR When the Guide in the video tape calls Sakura, her name is mistaken as Ogawa Noriku, but later on in the film after her death is mentioned she is called Sakura.
Community content is available under
CC-BY-SA
unless otherwise noted.