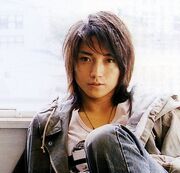 Tatsuya Fujiwara (藤原 竜也 Fujiwara Tatsuya, born May 15, 1982 in Saitama, Japan) is a Japanese actor.
He is famous for acting the part of Shuya Nanahara in the controversial 2000 film Battle Royale and continues the character as a leader of Wild Seven in the sequel, Battle Royale II: Requiem.
He stars as Light Yagami, the leading role in Death Note and Death Note: The Last Name, films based on the manga of the same name. He is a Seibu Lions fan. He has also worked with director Takashi Miike for Sabu.
In theatrical works, he is known for collaborating with Yukio Ninagawa, one of the most influential directors in Japan. He started his career as theatre works, before screen debut, with the title role of Shintoku-maru, the boy who has obsessed with his complicated relationship with his stepmother. He has also set a high evaluation on his acting some Shakespeare plays, including Hamlet and Romeo and Juliet [1].
Biographical information
Edit
Name: Tatsuya Fujiwara (藤原 竜也, Fujiwara Tatsuya)
Family: Father, mother, older sister, older brother
Date of Birth: May 15 1982
Current age: 36
Height: 178cm (5'10")
Weight: 55kg (8.1 stone, 121 pounds)
Chest: 82cm
Waist: 75cm
Shoe Size: 27cm
Blood Type: A
Chinese zodiac sign: Water Dog (水戊)
Favorite sports: Soccer and snowboarding
TV Dramas
Edit
That's The Answer (1997)
Cyber Bishoujo Telomere (1998)
Feeling Relief Is Easy (1998)
Frozen Summer (1998)
Change! (1998)
LxIxVxE (1999)
Kiss Of Heaven (1999)
The Things You Taught Me (2000)
Saintly Springtime Of Life (2001)
Ikutsu Mono Umi Wo Koeru Te (2001)
Heaven's Gold Coins (2001)
I Cannot Say I Love You (2002)
Night Of Being Concerned (2002)
Shinsengumi (2004)
Yatsuhakamura (2004)
Red Doubt (2005)
Furuhata Ninzaburo (2006) (1st Episode)
Self-Defence Party At The Age Of Wars (2006)