Character Information

Yoji Kuramoto

Performance
Position:
31th
Kills:
0
Killed by:
Himself (refused to participate in program)
Cause of Death:
Hung
Assigned Weapon:
Rope
Actor:
Osamu Ohnishi
Backstory
It is unknown that he has friends but he does have a girlfriend named Yoshimi Yahagi.
In the Program
After the students wake up in the classroom, Yoji whispers to Yoshimi when
Kitano
hits Yoji with a piece of chalk. Yoshimi angrily confronts
Kitano
,
Kitano
pushes her forehead away with his finger, and Yoshimi sits down. He and Yoshimi are later found hung with Yoji's rope.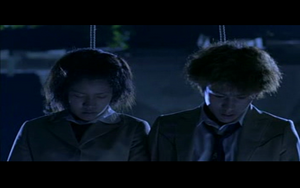 Community content is available under
CC-BY-SA
unless otherwise noted.